FTL Freight Shipping: All You Need to Know
Read this article to learn all about FTL freight shipping. FTL has advantages such as quick transit times, minimal handling, and cost-effectiveness for large freight quantities that help shippers increase transportation efficiency and cut down on freight costs.
FTL freight shipping is one of the most commonly used types of over-the-road (OTR) transportation. It is a freight solution that can help shippers improve their delivery efficiency and cut down on shipping costs when used correctly.
Click Here: Get Reliable Capacity Regardless of Market Conditions
This article discusses the working of FTL, how it differs from less-than-truckload (LTL), its pros and cons, and when a shipper should consider using it. Continue reading to learn more.
What is FTL Freight Shipping?
FTL is short for "full truckload" and sometimes is referred to as TL (truckload). It is a commonly used freight solution by shippers who have enough freight to fill up more than half and up to the full capacity of a 48- or 53-foot trailer. With FTL freight shipping, an entire truck is reserved for a single shipper's use. This means that only a single shipper's freight remains on the truck for the entirety of the journey.
For FTL shipments, the carrier sends out a truck to the pick-up point at a pre-determined time slot, where it is loaded with the shipper's freight and sealed. The driver then transports the goods from the origin directly to the drop-off point without any stops along the way. This provides for faster transit times and minimal handling of freight.
FTL freight shipping is the most economical choice for a shipper when they have enough freight to fill up a trailer. The trucks used for FTL can either be a dry van, reefer, or flatbed.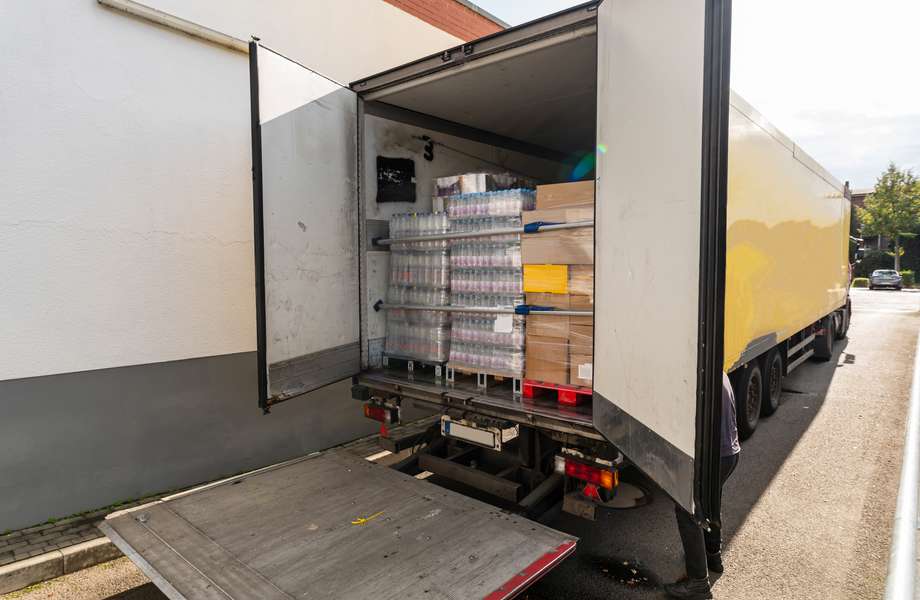 Difference Between FTL and LTL
FTL and LTL (less-than-truckload) are the two most commonly used OTR freight solutions. As stated above, FTL freight shipping refers to an entire truck being reserved for use by a single shipper. Meanwhile, with LTL, multiple shippers' freight share space on the same truck, and shippers only pay for the portion of space that their freight occupies. With that said, the key differences between FTL and LTL freight shipping fall under the following areas:
Freight Dimensions
FTL: This is used when shipping freight that weighs more than 10,000 lbs. or contains more than 10 pallets.
LTL: This is used when shipping freight that weighs between 150 and 15,000 lbs. or contains up to 12 pallets.
Pick-up
FTL: Fixed appointments are made by the carrier to pick up freight from the shipper.
LTL: Since LTL consists of multiple pickups from different locations, a broader pick-up window will be provided and requires flexibility from the shipper.
Transit Times
FTL: Transit times are less since the driver proceeds straight to the destination after pick-up.
LTL: This has longer transit times than FTL due to the shipper's freight being loaded and unloaded multiple times – in different trailers and warehouses – before reaching the destination.
Freight Handling
FTL: Freight handling is minimal since freight is loaded at the origin, sealed in the trailer, and only unloaded at the destination.
LTL: Conversely, freight is handled much more since it is loaded and unloaded multiple times with LTL shipping.
Cost
FTL: It is cost-effective when shipping large quantities of freight, but not with smaller amounts.
LTL: This is a much more inexpensive solution than FTL freight shipping, as shippers only pay for the space their freight utilizes.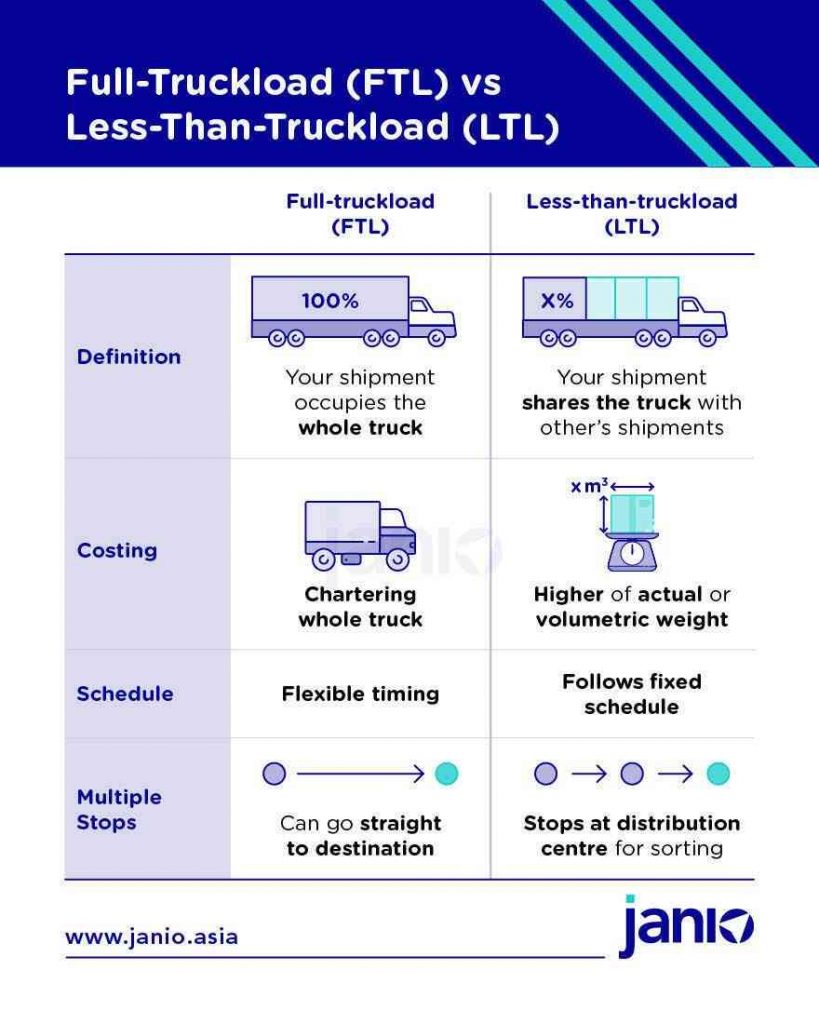 Click here to learn more about the different freight solutions available to a shipper and their respective pros and cons.
Pros and Cons of FTL Freight Shipping
FTL freight shipping clearly differs from LTL in several ways. It offers certain benefits that make it an attractive solution for shippers under specific circumstances. But, it also has its share of disadvantages. Below are the pros and cons of shipping using FTL services:
Pros:
Faster transit times as freight is taken directly to the destination without any stops on the way.
Cost-effective for large quantities of freight.
Minimal freight handling, thus reduced chances of damage.
Suitable for fragile or high-value cargo as trailer space is not shared with other shippers' freight, and handling is minimal.
Fixed pick-up windows that allow shippers to plan for shipments in advance.
Cons:
Costs more than LTL as shippers have to pay for the entire space even if their freight does not fill up the trailer.
Fewer value-added services. May not provide handling services at pickup or delivery points.
When to Use FTL Freight Shipping
In the above section, it was mentioned that FTL offers certain benefits to shippers under specific circumstances. A shipper needs to learn how to use FTL freight shipping properly to improve their transportation efficiency. Mentioned below are the scenarios in which FTL is the most optimal solution for a shipper:
When shipping large amounts of freight: FTL freight shipping is an ideal solution for shippers looking to transport freight that weighs more than 10,000 lbs or contains more than 10-12 pallets. This is because FTL is more cost-effective with bigger and larger quantities of freight; with all other factors being equal, an FTL shipment will cost less than the same shipment broken down into multiple LTL shipments.
When shipping time-sensitive freight: FTL freight shipping has faster transit times due to its operational nature. Shipments being taken directly from the origin to the destination with no stops in between makes it an ideal solution for shippers who need to transport time-sensitive cargo.
When fixed pick-up/delivery windows are required: With FTL consisting of fewer stops and less risks, it reduces the chances of delays. Combined with the carrier making fixed appointments for freight pick-up, FTL freight shipping helps greatly improve On-time Pickup (OTP) and On-time Delivery (OTD) performance.
When shipping fragile/high-value goods: FTL is the best option for shippers whose freight consists of fragile/high-value goods that could be damaged by excessive handling or compromised by other items in the trailer. Since FTL involves much lesser handling than LTL, it is a better option for shipping fragile freight. Additionally, FTL provides shippers with the option of placing their fragile cargo strategically in a cargo bed, thus ensuring its safety.
Conclusion
In summary, FTL freight shipping is an excellent way for shippers to save on transportation costs when shipping large amounts of freight. It offers quick transit times, minimal freight handling, and fixed pick-up & delivery slots. All of this, along with its cost-effectiveness when shipping large quantities of goods, helps shippers improve transportation efficiency and cut down on costs.
TMS offers FTL services at affordable rates that help shippers move their freight across all of North America. Click here to learn more.
We hope you enjoyed reading the article. Please let us know your thoughts in the comments below. If you want us to write on specific topics, please contact us! Additionally, if you want to stay up-to-date with the latest transportation industry news and trends, you can follow us on LinkedIn, Facebook, and Twitter.
More Blogs
Here are some more articles that consist of topics about the logistics industry, modern transportation trends, and best practices to help your business expand. Read some of these articles to learn more.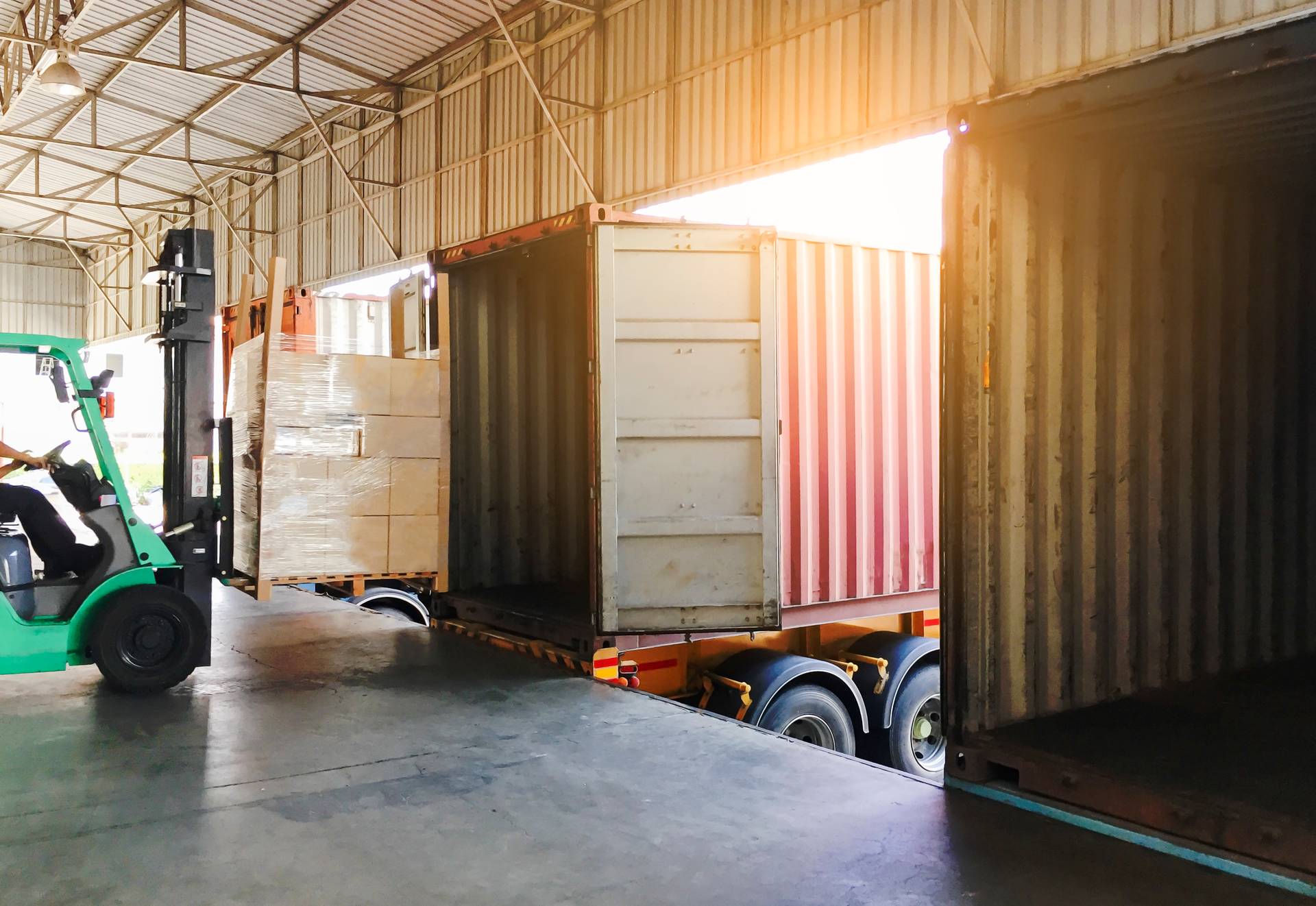 Third-party logistics LTL shipping can significantly reduce your shipping costs, but ...